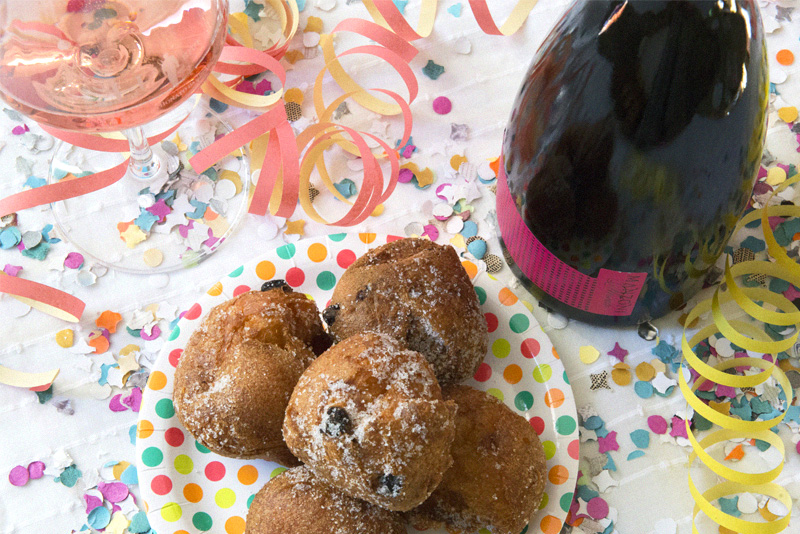 Carnevale, frittelle and Manzoni Moscato!
It's carnival time.. frittelle and a good glass of Manzoni Moscato to relish this cheerfulness moment!
The Carnival, on the timing of the Republic of Venice, was the American social moment where there wasn't any difference between the rich and the poor, since people where hidden behind the carnval masks. On street corners were the "fritoeri", frittelle sellers, for the joy of adults and children.
Fritole venexiane recipe
Serves: 6 people
• 400 g of 00 flour
• 30 g of fresh brewer's yeast
• 60 ml of warm water
• 3 tablespoons of caster sugar
• 2 eggs
• 300 ml of lukewarm milk
• 2 tablespoons of rum (or half a vial of rum aroma)
• 1 twist of lemon
• 1 pinch of salt
• 120 g of raisins
• Abundant peanut oil for frying
Soak the raisins into warm water.
Crumble the yeast in 60 ml of warm water, stirring well to dissolve it perfectly.
In a bowl mix the flour with the sugar and the grated lemon peel.
Add the dissolved yeast into rum and then mix well.
In a bowl, beat the eggs with a pinch of salt.
Add the eggs and milk to the dough a little at a time and keep on mixing.
Adjust with the quantity of milk in order to obtain a fluid but consistent mixture.
Add the raisins well squeezed from the water to the mixture.
Let the dough rise in a warm place for an hour, until it has doubled its volume.
Heat the oil in a pan and when it is hot (170 °) pour the mixture into the oil with spoonfuls (half filling the spoon).
When the fritters swell, turn them so that they cook well on both sides.
Drain them with a perforated spoon and place them on kitchen paper to dry.
Sprinkle with granulated sugar.
PS: the true Venetian tradition wants the raisins to be plumped in grappa!