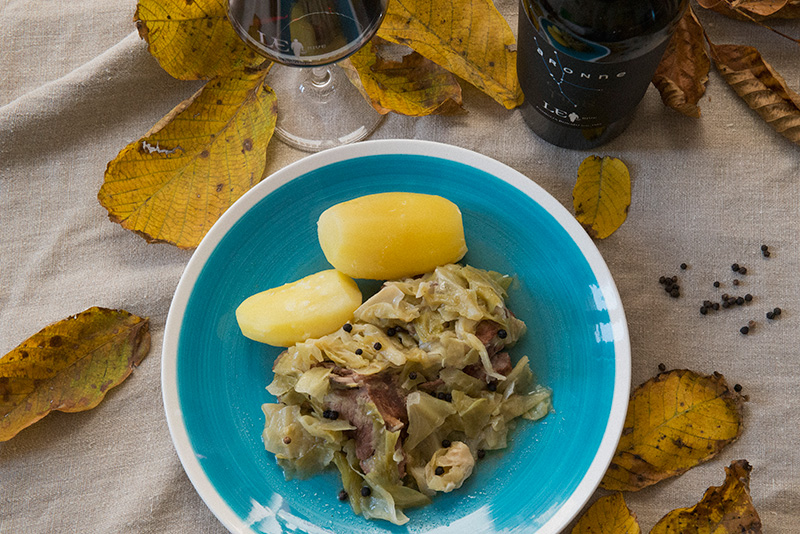 Traditional Norwegian Fårikål: Lamb & Cabbage Recipe
Fårikål, or Lamb & Cabbage, is an old, traditional Norwegian dish loved by young and old in Norway. It is often on the menu in the fall when lamb is in season and very inexpensive. Lamb meat is a favorite among many Norwegians, and simmering with cabbage is one of the most popular ways to prepare it. This authentic recipe is very easy to make, and even cheap, tough cuts become tender and juicy when fixed this way.
Perfect pairing with Aronne!
Ingredients:
1 leg of lamb (or 1,50/2,00 kg of other cuts of lamb, with or without bone)
1 medium to large head of cabbage
3 cups water (enough water to slightly cover the lamb and cabbage)
salt
4 teaspoons of whole black pepper
500 gr of potatoes
Instructions:
start out by cutting up the cabbage into small wedges;
cut the leg or the other cuts of lamb into several pieces;
pour the water into a large pot or dutch oven (how much water to use depends from you. Some people fill the pot all the way up, some cover the meat half way, and still others will use only a little bit of water on the bottom of the pot. During cooking the cabbage will shrink and add juice, as will the meat, so you'll get a lot of wonderful broth in the end regardless. However, when using a small amount of water, keep an eye on it and refill if needed to keep the pot from drying out);
layer the cabbage and lamb in the pot along with salt between layers, starting and ending with cabbage;
put whole black pepper into the pot along with the meat and cabbage (you can add it inside a tea strainer or other enclosure to keep it contain if you prefer);
cover the pot, bring to a boil, then lower the temperature to a very gentle boil;
let cook for 3-4 hours until the meat is fork tender and easy to pull apart;
serve the lamb & cabbage with potatoes boiled in lightly salted water, and pour plenty of the lamb stock over potatoes and meat. Also keep salt and pepper shakers at the table to add more as needed.