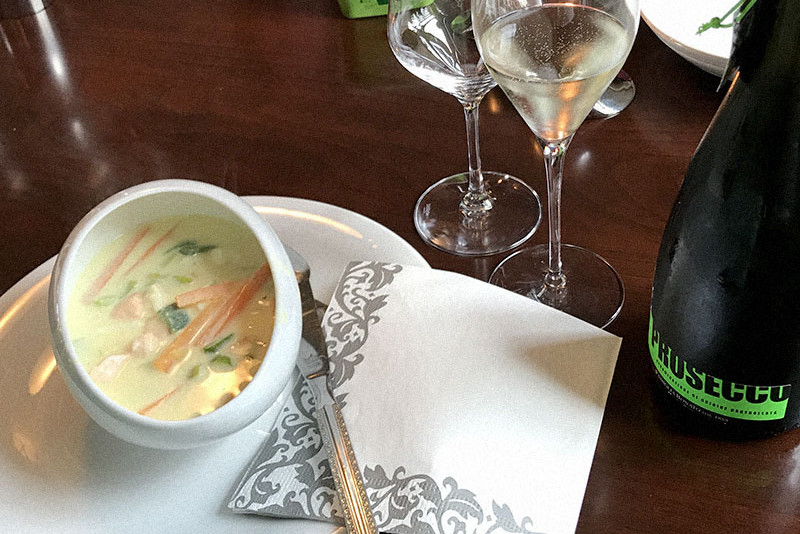 Fiskesuppe: Norwegian Fish Soup Recipe
In our recent trip to Norway, during the Vinfest39 in Porsgrunn, our dear friends Janneke and Erik of Vivino Import have revealed us the secrets of the delicious Fiskesuppe, traditional Norwegian fish soup. Pinot Grigio & Prosecco DOC Frizzante Spago LE RIVE are the perfect match… here you go the recipe! Enjoy your meal!
Ingredients:
½ leek
2 medium carrot
curry
2 cloves of garlic
¼ of red pepper
2 shallots
150 gr salmon
150 gr halibut
150 gr Norwegian cat fish (or the one you have)
500 gr mussels
200 ml cream
40 g flour
40 g butter
1 fish stock cube
1 glas Pinot Grigio Le Rive
How to cook the vegetables
in a saucepan let the water boil with salt;

chop carrots finely and leek in strips;

add vegetables into the boiling water and let it cook for about 3/5 minute;

once cooked drain the vegetables.

How to cook the fish:
in a saucepan let the water boil with salt;

cut salmon, halibut and Norwegian cat fish into medium pieces;

add the fish into the boiling water and let it cook with turning off the flame for about 10/15 minutes.
How to prepare mussels:
clean the mussels with running water;
mince the garlic, chop the red charlotte onions and the red pepper and fry them lightly in the olive oil;
pour some Pinot Grigio Le Rive and let the whole alcohol evaporate otherwise the mussels will get a bitter feeling from the alcohol.
place the mussels, raise the flame, cover the pan and cook for about 8 minutes until all the mussels are open.


How to prepare the soup:
put the butter (softened at ambient temperature previously), add the same amount of sifted flour and blend all with a whip so as to obtain a fairly creamy and homogeneous composition (all without or at low flame);

once the roux is ready, turn on the flame, add fish water and vegetables;

raise the flame and then add the fish stock cube and a sprink of curry, remembering to bake it all for ten minutes so that the flour and the stock cube are cooked;

add fish, cream and then turn the flame off (there is no need to cook the cream).

Serve the soup by placing the mussels in the bottom of the dish and cover them with the soup. If you want, you can warm up some bread, spread it with margarine, dip or eat it with the soup.